Hello community,
I'm happy to announce the first version of the new BTicino (Legrand) / OpenWebNet binding for openHAB 2.
This is the first known openHAB 2 binding for BTicino/Legrand gateways and devices to support both BUS/SCS and BTicino ZigBee (using USB dongle).
Supported so far:
WHO=1 Lighting (switches/dimmers)
WHO=2 Automation (shutters)
WHO=4 Thermoregulation (thermostats and sensors)
WHO=15/25 CEN/CEN+ (scenario buttons and dry contact / IR sensors)
WHO=18 Energy Management (central unit)
other functionalities/devices will be added soon - hopefully with your help.
The final goal is to integrate all the functionalities available in the 1.x version of the BTicino binding.
Please test it in your environment and give me your feedback

!
cheers,
Massimo
Features:
first openHAB 2 binding to support BUS/SCS gw and devices
auto-discovery of:

BUS/SCS gateways (via UPnP) and devices
ZigBee gateway (USB dongle) and devices

BTicino BUS/SCS + ZigBee support in one single binding
support for lights, dimmers, green switches, automation (roller shutters) with position feedback, thermoregulation, CEN/CEN+, dry contacts and IR sensors, Energy Management
support for gateways with text passwords (HMAC authentication), like MyHOMEServer1, MyHOMEScreen10
Installation:
Since it's still in development stage and not part of the official distribution, to install the binding refer to these instructions and steps.
Documentation:
For configuration and more details see the binding README
Screenshots:
BUS/SCS + ZigBee discovery
Control BUS/SCS + ZigBee devices (shutters, switch and dimmer)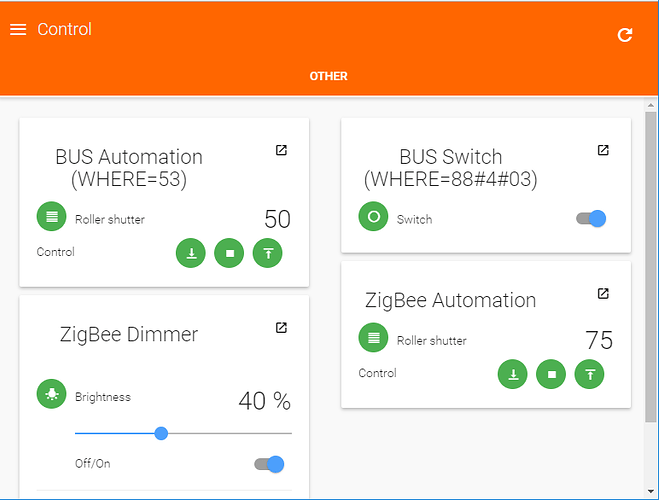 Thermostat
Source code: