Platform information:

Hardware: i7
OS: _Windows 10
Java Runtime Environment: JRE 8
openHAB version: 2
Hello everyone!
I bought some Xiaomi Temperature Sensors, which I connected to openHab via mqtt2zigbee.
I have 1 Generic MQTT Thing, which is listening on a specific channel for the temperature. This channel is then linked to an Item that is shown in the PaperUI Control page. This is working perfectly, I am also saving the values in an InfluxDB and viewing that data with Grafana: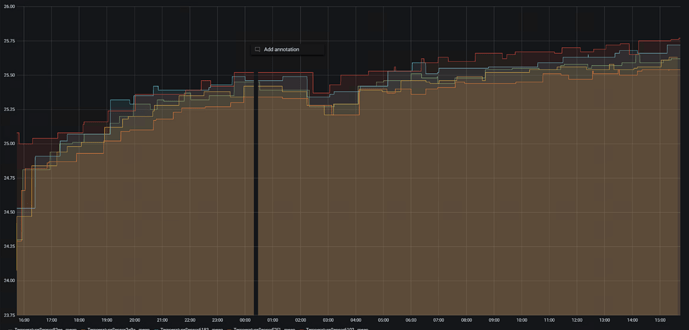 As you can see, the sensors are all a bit off, thus I would like to increase the orange temperature by a but and decrease red and blue.
Unfortunately, I am not able to find a working solution for this.
Can anyone point me in the right direction?
I read something about Profiles, but I can not find that in the PaperUI.
Kind regards and thank you very much
Dustin