I have a MQTT thing with the following channel: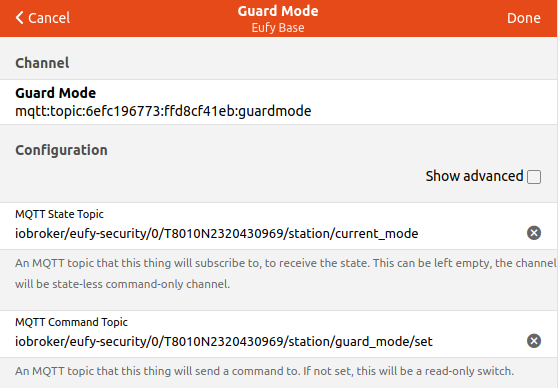 As you can see, there is a state topic and a separate command topic. To change the mode, you send a e.g. 0 to guard_mode/set, the other side picks that up, sends whatever has to be sent to the device, and when successfully changed, writes the current (new) mode into current_mode, which will also end up containing 0 (on success).
Now unfortunately, if there is a failure on the other end (= current_mode is not updated), in openHAB the new state will still be the new value. So from the item I can't tell whether the operation was successful or not. Which is a bit sad, because the state topic would actually tell me if it was.
My workaround in the sitemap is now that I have two separate channels: one as a pure command channel to set the new mode, and another that only reads the state. While that works, it would be much nicer if it was fused into a single item. It looks like this in my sitemap:
The preferred behaviour would be that a click on one of the buttons would only send out the command, but not flip the state (as the current_mode didn't change yet). The active button should always show the current_mode. If there was a failure on the other end the active button wouldn't change and I would recognize it. If it was successful, the active button would change, and be a perfect visual confirmation that the command succeeded. The second row "Aktueller Modus", which is the pure monitoring item, then would not be necessary anymore.
Is there a way to achieve what I want to achieve?