I've got an item that's a bit too sensitive.


And this resuls in not so nice graphs (high detail). See below for an example.
I'm trying to find a way that my rule isn't been triggerd so quickly. So it's result in a more stable graph.
The involved values lay between 0.33 and 0.77. So in the end, I want to calculate a (stable) indication percentage.
Is there a way where I can easily complete the numbers with fe 0.05 steps instead of 0.01 steps?
Something like:

var Number Meter3b = Meter3.RoundingWith0,5steps

Or can I use something where the value must change with more then 0.05 from the last step(s).
But of course, in this case it should work if the number rises slowly (fe 0.33 > 0.35 > 0.37 > 0.39 > 0.40 …)

Other suggestions?
2020-07-03 12:07:21.588 [vent.ItemStateChangedEvent] - Meter3 changed from 0.33 to 0.36
2020-07-03 12:13:21.586 [vent.ItemStateChangedEvent] - Meter3 changed from 0.36 to 0.33
2020-07-03 12:14:21.594 [vent.ItemStateChangedEvent] - Meter3 changed from 0.33 to 0.36
2020-07-03 12:26:21.598 [vent.ItemStateChangedEvent] - Meter3 changed from 0.36 to 0.33
2020-07-03 12:27:21.599 [vent.ItemStateChangedEvent] - Meter3 changed from 0.33 to 0.36
2020-07-03 12:29:21.604 [vent.ItemStateChangedEvent] - Meter3 changed from 0.36 to 0.33
2020-07-03 12:30:21.613 [vent.ItemStateChangedEvent] - Meter3 changed from 0.33 to 0.36
2020-07-03 12:31:21.602 [vent.ItemStateChangedEvent] - Meter3 changed from 0.36 to 0.33
2020-07-03 12:32:21.620 [vent.ItemStateChangedEvent] - Meter3 changed from 0.33 to 0.36
2020-07-03 12:42:21.620 [vent.ItemStateChangedEvent] - Meter3 changed from 0.36 to 0.33
2020-07-03 12:43:21.624 [vent.ItemStateChangedEvent] - Meter3 changed from 0.33 to 0.36
2020-07-03 12:48:21.632 [vent.ItemStateChangedEvent] - Meter3 changed from 0.36 to 0.33
2020-07-03 12:49:21.631 [vent.ItemStateChangedEvent] - Meter3 changed from 0.33 to 0.36
2020-07-03 12:51:21.634 [vent.ItemStateChangedEvent] - Meter3 changed from 0.36 to 0.33
2020-07-03 12:52:21.638 [vent.ItemStateChangedEvent] - Meter3 changed from 0.33 to 0.36
2020-07-03 12:58:21.645 [vent.ItemStateChangedEvent] - Meter3 changed from 0.36 to 0.33
2020-07-03 12:59:21.652 [vent.ItemStateChangedEvent] - Meter3 changed from 0.33 to 0.36

Day chart: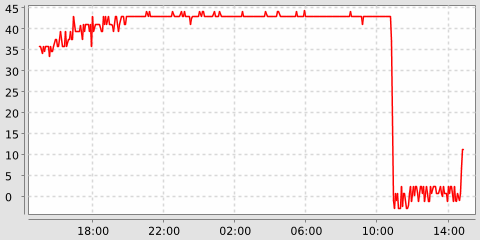 Week chart: