[tl;dr]: I have created a OH3 UI Tabbed page. I would to use this page on my openHAB app instead of the sitemap, but when I switch to OH3 interface, I cannot make this page the starting page.
Whole story:
For years we have been using the same sitemap for our android (me) and iPhone (wife) phones.
This is what it looks like: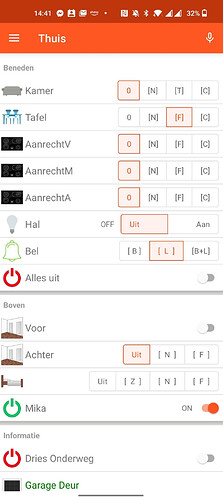 I did some tests with the "new" OH3 interface and liked how it allows me to create a responsive layout. So I planned on switching our phone apps to the OH3 interface. I "recreated" the " sitemap layout, in a format that I like (and that my wife wants to use too).
This is what I created:

But now when I switch to openHAB3 UI, it starts on the overview page. My Tabbed page can be made available on the sidebar but that is additional clicks: I would like it to start on my oh tabbed page. Is there a way to do this?