It gets added (included) fine, I can see 4 channels. It´s goes ONLINE.
Atm I have all 4 channels linked, cause I feared that something may have gone wrong during inclusion and the channel for motion dectection was changed (or wrong). So to make sure at least something worked, I linked all channels.
These are the channels it has. None of them respond, or openhab does not receive the respond. (Hard for me to tell).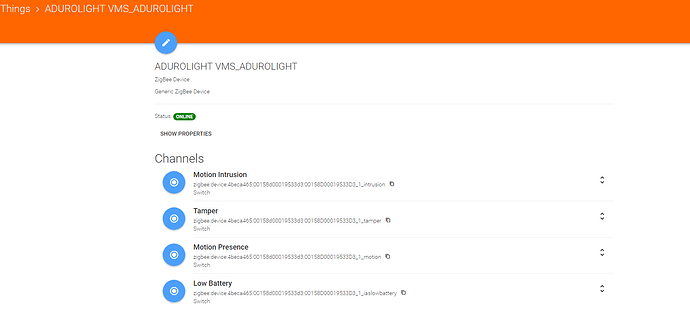 When it worked, it triggered the Motion Presense channel when there is a movement.
Motion Intrusion channel has not done anything for some time now.
It used to have a Battery Level channel, but after updating the binding and the lib it´s gone, (as explained some days ago). This channel "seem" to have been exchanged with a Low Battery channel switch, which I doubt is working. (Not easy to test)
Tamper channel has never done anything. I dont believe there is a sensor for this.