Hello guys,
I am starting to play a little with blockly and I am starting with simple rules involving motion sensors and timers. I have a rule that when a motion sensor is activated I turn on a light and after a certain amount of time it is turned off, or if in the meantime the sensor gets triggered again the time is rescheduled. This is working fine with the following blocks: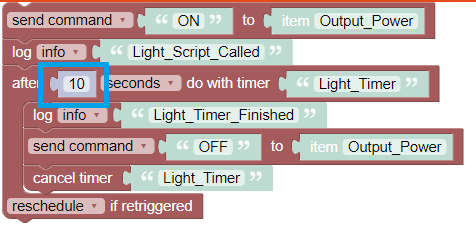 So I wanted to evolve this rule and instead of a fixed time (in the example 10 seconds) I would like to put my own defined times, for each light in an Number Item so that if I need to change them I do not have to touch the rule anymore, I do it from the UI/Phone app. From my readings and tests I do not see that is possible to insert any block in the time definition of the timer (blue square rectangle in my picture).
Is this correct? Or is there any workaround for this to be done with blockly?
Thank you in advanced for all your help.
Best regards.