Hello,
I´ve some trouble with sensors/devices which are randomly offline in openhav. I can control the device and can see updates in the Phoscon Software. The rest api information looks fine too of phoscon.
I don´t have a clue how to get better loggings.
I got the message "OFFLINE - COMMUNICATION_ERROR Auth failed" in PaperUI at the Thing.
Example:

Rest API:
http://localhost/api/BBC17E10D6/sensors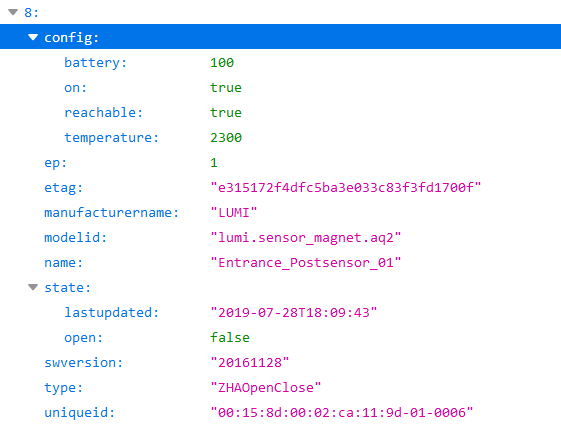 Deconz.things File:
 Bridge deconz:deconz:homeserver [ host="127.0.0.1", apikey="BBC17E10D6" ] 
{

     //-----------------------------------------------------------------------------     
     // Switch Hue
     //-----------------------------------------------------------------------------

     switch              BathSwitchSonos01             "Bath_Switch_Sonos_01" [ id="9" ]
     switch              KitchenSwitchSonos01         "Kitchen_Switch_Sonos_01"     [ id="2" ]
     switch              LivingroomSwitchSonos01      "Livingroom_Switch_Sonos_01"  [ id="24" ]
     switch              LivingroomSwitchLamps01      "Livingroom_Switch_Lamps_01"  [ id="22" ]
     switch              BedroomSwitchLamps01         "Bedroom_Switch_Lamps_01"     [ id="30" ]
     switch              BedroomSwitchLamps02         "Bedroom_Switch_Lamps_02"     [ id="31" ]
     switch              KitchenSwitchLamps01         "Kitchen_Switch_Lamps_01"     [ id="32" ]

     //-----------------------------------------------------------------------------     
     // Roomsensor Xiaomi Temperature / Humidity / Pressure
     //-----------------------------------------------------------------------------
     
     temperaturesensor   LivingRoomTempsensorTemperature01  "LivingRoom_Tempsensor_01" [ id="3" ]
     humiditysensor      LivingRoomTempsensorHumidity01     "LivingRoom_Tempsensor_01" [ id="4" ]
     pressuresensor      LivingRoomTempsensorPressure01     "LivingRoom_Tempsensor_01" [ id="5" ]

     temperaturesensor   BathTempsensorTemperature01  "Bath_Tempsensor_01" [ id="10" ]
     humiditysensor      BathTempsensorHumidity01     "Bath_Tempsensor_01" [ id="11" ]
     //pressuresensor      BathTempsensorPressure01     "Bath_Tempsensor_01" [ id="5" ]

     temperaturesensor   BasementTempsensorTemperature01  "Basement_Tempsensor_01" [ id="12" ]
     humiditysensor      BasementTempsensorHumidity01     "Basement_Tempsensor_01" [ id="13" ]
     pressuresensor      BasementTempsensorPressure01     "Basement_Tempsensor_01" [ id="14" ]

     temperaturesensor   WashroomTempsensorTemperature01  "Washroom_Tempsensor_01" [ id="15" ]
     humiditysensor      WashroomTempsensorHumidity01     "Washroom_Tempsensor_01" [ id="16" ]
     pressuresensor      WashroomTempsensorPressure01     "Washroom_Tempsensor_01" [ id="17" ]

     temperaturesensor   OutdoorTempsensorTemperature01  "Outdoor_Tempsensor_01" [ id="18" ]
     humiditysensor      OutdoorTempsensorHumidity01     "Outdoor_Tempsensor_01" [ id="19" ]
     pressuresensor      OutdoorTempsensorPressure01     "Outdoor_Tempsensor_01" [ id="20" ]

     //-----------------------------------------------------------------------------     
     // Watersensor Xiaomi 
     //-----------------------------------------------------------------------------

     waterleakagesensor  KitchenWatersensor01               "Kitchen_Watersensor_01"   [ id="6" ]      
     waterleakagesensor  BasementWatersensor01              "Basement_Watersensor_01"  [ id="7" ]      
     waterleakagesensor  ToolroomWatersensor01              "Toolroom_Watersensor_01"  [ id="21" ]      

     //-----------------------------------------------------------------------------     
     // Windowsensor Xiami
     //-----------------------------------------------------------------------------

     openclosesensor     EntrancePostsensor01       "Entrance_Postsensor_01"           [ id="8" ]  

     //-----------------------------------------------------------------------------
     // PresenceSensor
     //-----------------------------------------------------------------------------

     presencesensor      HallwayPresenceSensor01     "Hallway_Presence_Sensor_01"       [ id="25" ]



//     presencesensor      livingroom-presence     "Livingroom Presence"       [ id="1" ]
//     openclosesensor     livingroom-window       "Livingroom Window"         [ id="5" ]  
//     alarmsensor         basement-alarm          "Basement Alarm Sensor"     [ id="8" ]

}



File Deconz.items for EntrancePostSensor:
//-----------------------------------------------------------------------------     
// Windowsensor Xiami
//-----------------------------------------------------------------------------

Contact              EntrancePostsensor01Open           "Open/close"     (OU_Entrance) {channel="deconz:openclosesensor:homeserver:EntrancePostsensor01:open"}
DateTime             EntrancePostsensor01LastUpdated    "Last updated"    {channel="deconz:openclosesensor:homeserver:EntrancePostsensor01:last_updated"}
Number               EntrancePostsensor01BatteryLevel   "Battery level"   {channel="deconz:openclosesensor:homeserver:EntrancePostsensor01:battery_level"}
Switch               EntrancePostsensor01BatteryLow     "Low battery"     {channel="deconz:openclosesensor:homeserver:EntrancePostsensor01:battery_low"}
Number:Temperature   EntrancePostsensor01Temperature    "Temperature"     {channel="deconz:openclosesensor:homeserver:EntrancePostsensor01:temperature"}


Logs openhab.log / events.log:
/var/log/openhab2/events.log:4030:2019-07-28 16:21:10.605 [hingStatusInfoChangedEvent] - 'deconz:openclosesensor:homeserver:EntrancePostsensor01' changed from ONLINE to OFFLINE (BRIDGE_OFFLINE)
/var/log/openhab2/events.log:5017:2019-07-28 16:21:22.459 [hingStatusInfoChangedEvent] - 'deconz:openclosesensor:homeserver:EntrancePostsensor01' changed from OFFLINE (BRIDGE_OFFLINE) to UNINITIALIZED
/var/log/openhab2/events.log:5018:2019-07-28 16:21:22.461 [hingStatusInfoChangedEvent] - 'deconz:openclosesensor:homeserver:EntrancePostsensor01' changed from UNINITIALIZED to UNINITIALIZED (HANDLER_MISSING_ERROR)
/var/log/openhab2/events.log:5317:2019-07-28 16:21:24.378 [temChannelLinkRemovedEvent] - Link 'EntrancePostsensor01BatteryLevel => deconz:openclosesensor:homeserver:EntrancePostsensor01:battery_level' has been removed.
/var/log/openhab2/events.log:5377:2019-07-28 16:21:24.530 [temChannelLinkRemovedEvent] - Link 'EntrancePostsensor01Temperature => deconz:openclosesensor:homeserver:EntrancePostsensor01:temperature' has been removed.
/var/log/openhab2/events.log:5425:2019-07-28 16:21:24.675 [temChannelLinkRemovedEvent] - Link 'EntrancePostsensor01Open => deconz:openclosesensor:homeserver:EntrancePostsensor01:open' has been removed.
/var/log/openhab2/events.log:5429:2019-07-28 16:21:24.685 [temChannelLinkRemovedEvent] - Link 'EntrancePostsensor01LastUpdated => deconz:openclosesensor:homeserver:EntrancePostsensor01:last_updated' has been removed.
/var/log/openhab2/events.log:5613:2019-07-28 16:21:25.226 [temChannelLinkRemovedEvent] - Link 'EntrancePostsensor01BatteryLow => deconz:openclosesensor:homeserver:EntrancePostsensor01:battery_low' has been removed.
/var/log/openhab2/events.log:5923:2019-07-28 16:23:27.566 [.ItemChannelLinkAddedEvent] - Link 'EntrancePostsensor01BatteryLevel-deconz:openclosesensor:homeserver:EntrancePostsensor01:battery_level' has been added.
/var/log/openhab2/events.log:5984:2019-07-28 16:23:27.747 [.ItemChannelLinkAddedEvent] - Link 'EntrancePostsensor01Temperature-deconz:openclosesensor:homeserver:EntrancePostsensor01:temperature' has been added.
/var/log/openhab2/events.log:6032:2019-07-28 16:23:27.869 [.ItemChannelLinkAddedEvent] - Link 'EntrancePostsensor01Open-deconz:openclosesensor:homeserver:EntrancePostsensor01:open' has been added.
/var/log/openhab2/events.log:6037:2019-07-28 16:23:27.887 [.ItemChannelLinkAddedEvent] - Link 'EntrancePostsensor01LastUpdated-deconz:openclosesensor:homeserver:EntrancePostsensor01:last_updated' has been added.
/var/log/openhab2/events.log:6221:2019-07-28 16:23:28.512 [.ItemChannelLinkAddedEvent] - Link 'EntrancePostsensor01BatteryLow-deconz:openclosesensor:homeserver:EntrancePostsensor01:battery_low' has been added.
/var/log/openhab2/events.log:6283:2019-07-28 16:23:28.914 [hingStatusInfoChangedEvent] - 'deconz:openclosesensor:homeserver:EntrancePostsensor01' changed from UNINITIALIZED to UNINITIALIZED (BRIDGE_UNINITIALIZED)
/var/log/openhab2/events.log:6364:2019-07-28 16:23:32.373 [hingStatusInfoChangedEvent] - 'deconz:openclosesensor:homeserver:EntrancePostsensor01' changed from UNINITIALIZED (BRIDGE_UNINITIALIZED) to INITIALIZING
/var/log/openhab2/events.log:6365:2019-07-28 16:23:32.377 [hingStatusInfoChangedEvent] - 'deconz:openclosesensor:homeserver:EntrancePostsensor01' changed from INITIALIZING to OFFLINE (CONFIGURATION_PENDING)
/var/log/openhab2/events.log:6475:2019-07-28 16:23:36.391 [hingStatusInfoChangedEvent] - 'deconz:openclosesensor:homeserver:EntrancePostsensor01' changed from OFFLINE (CONFIGURATION_PENDING) to OFFLINE (COMMUNICATION_ERROR): java.util.concurrent.TimeoutException: Total timeout 2000 ms elapsed
/var/log/openhab2/events.log:6480:2019-07-28 16:23:36.459 [hingStatusInfoChangedEvent] - 'deconz:openclosesensor:homeserver:EntrancePostsensor01' changed from OFFLINE (COMMUNICATION_ERROR): java.util.concurrent.TimeoutException: Total timeout 2000 ms elapsed to OFFLINE (COMMUNICATION_ERROR): Auth failed
/var/log/openhab2/events.log:7249:2019-07-28 16:33:37.926 [hingStatusInfoChangedEvent] - 'deconz:openclosesensor:homeserver:EntrancePostsensor01' changed from OFFLINE (COMMUNICATION_ERROR): Auth failed to OFFLINE (BRIDGE_OFFLINE)
/var/log/openhab2/events.log:8108:2019-07-28 18:35:43.114 [.ItemChannelLinkAddedEvent] - Link 'EntrancePostsensor01BatteryLevel-deconz:openclosesensor:homeserver:EntrancePostsensor01:battery_level' has been added.
/var/log/openhab2/events.log:8169:2019-07-28 18:35:43.430 [.ItemChannelLinkAddedEvent] - Link 'EntrancePostsensor01Temperature-deconz:openclosesensor:homeserver:EntrancePostsensor01:temperature' has been added.
/var/log/openhab2/events.log:8217:2019-07-28 18:35:43.561 [.ItemChannelLinkAddedEvent] - Link 'EntrancePostsensor01Open-deconz:openclosesensor:homeserver:EntrancePostsensor01:open' has been added.
/var/log/openhab2/events.log:8222:2019-07-28 18:35:43.582 [.ItemChannelLinkAddedEvent] - Link 'EntrancePostsensor01LastUpdated-deconz:openclosesensor:homeserver:EntrancePostsensor01:last_updated' has been added.
/var/log/openhab2/events.log:8406:2019-07-28 18:35:44.063 [.ItemChannelLinkAddedEvent] - Link 'EntrancePostsensor01BatteryLow-deconz:openclosesensor:homeserver:EntrancePostsensor01:battery_low' has been added.
/var/log/openhab2/events.log:8468:2019-07-28 18:35:44.244 [hingStatusInfoChangedEvent] - 'deconz:openclosesensor:homeserver:EntrancePostsensor01' changed from UNINITIALIZED to UNINITIALIZED (BRIDGE_UNINITIALIZED)
/var/log/openhab2/events.log:8551:2019-07-28 18:35:46.803 [hingStatusInfoChangedEvent] - 'deconz:openclosesensor:homeserver:EntrancePostsensor01' changed from UNINITIALIZED (BRIDGE_UNINITIALIZED) to INITIALIZING
/var/log/openhab2/events.log:8552:2019-07-28 18:35:46.820 [hingStatusInfoChangedEvent] - 'deconz:openclosesensor:homeserver:EntrancePostsensor01' changed from INITIALIZING to OFFLINE (CONFIGURATION_PENDING)
/var/log/openhab2/events.log:8671:2019-07-28 18:35:49.148 [hingStatusInfoChangedEvent] - 'deconz:openclosesensor:homeserver:EntrancePostsensor01' changed from OFFLINE (CONFIGURATION_PENDING) to OFFLINE (COMMUNICATION_ERROR): java.util.concurrent.TimeoutException: Total timeout 2000 ms elapsed
/var/log/openhab2/events.log:8673:2019-07-28 18:35:49.159 [hingStatusInfoChangedEvent] - 'deconz:openclosesensor:homeserver:EntrancePostsensor01' changed from OFFLINE (COMMUNICATION_ERROR): java.util.concurrent.TimeoutException: Total timeout 2000 ms elapsed to OFFLINE (COMMUNICATION_ERROR): Auth failed


Hardware:
Phoscon Conbee II
Software:
Openhab 2.5M1