Hello,
I'm using some milight rgb bulbs, rev. 3 milight bridges, OH2 and the milight binding for OH2.
I created scene rules and each scene set different colors to the bulbs.
Works nearly perfect but sometimes one or more of the bulbs don't react and stay at the last state.
At an earlier testing the bulbs needs three or for times pushing the buttons to react but I found out that setting a little relay between each command via the same bridge fixes the problem,
so maybe there is a similar problem when no juist sometimes the bulbs don't react.
Note: when controlling the bulbs separately via normal switches (Habpanel or PaperUI) all of the bulbs are reacting without any problems,
the problem is just with the scene modus.
Does anyone have similar problems?
Here the associated .items
	// Scenes Dummy

	Number Scene_EZ

	// Scenes EZ Deckenlampe

	Number Scene_EZ_Deckenlampe

	Color  Scene_ColorSelect_EZ_Deckenlampe {channel="milight:rgbLed:F0FE6B1128D6:7:ledcolor"} 

	// Scenes EZ Bücherregal

	Number Scene_EZ_Buecherregal

	Color  Scene_ColorSelect_EZ_Buecherregal {channel="milight:rgbLed:F0FE6B1128D6:8:ledcolor"} 

	// Scenes EZ Sideboard

	Number Scene_EZ_Sideboard

	Color  Scene_ColorSelect_EZ_Sideboard  {channel="milight:rgbLed:F0FE6B1128D6:9:ledcolor"} 

	// EZ Deckenlampe Discomode

	// Dimmer DiscoMode		{channel="milight:rgbLed:F0FE6B1128D6:7:discomode"}

	// Dimmer DiscoSpeed		{channel="milight:rgbLed:F0FE6B1128D6:7:discoSpeed"}

and .rules
	// Scenes EZ
	rule "Scene EZ"
	when
	Item Scene_EZ received command 
	then
	/*Aus*/ if (receivedCommand==1) { 
	/*Aus*/ sendCommand(Scene_ColorSelect_EZ_Deckenlampe, new HSBType(new DecimalType(0),new PercentType(0),new PercentType(0)))
	/*Aus*/ Thread::sleep(500) sendCommand(Scene_ColorSelect_EZ_Buecherregal, new HSBType(new DecimalType(0),new PercentType(0),new PercentType(0)))
	/*Aus*/ Thread::sleep(500) sendCommand(Scene_ColorSelect_EZ_Sideboard, new HSBType(new DecimalType(0),new PercentType(0),new PercentType(0)))
	}
	/*Normal*/ if (receivedCommand==2) { 
	/*Weiss*/ sendCommand(Scene_ColorSelect_EZ_Deckenlampe, new HSBType(new DecimalType(0),new PercentType(0),new PercentType(70)))
	/*Aus*/ Thread::sleep(500) sendCommand(Scene_ColorSelect_EZ_Buecherregal, new HSBType(new DecimalType(0),new PercentType(0),new PercentType(0)))
	/*Aus*/ Thread::sleep(500) sendCommand(Scene_ColorSelect_EZ_Sideboard, new HSBType(new DecimalType(0),new PercentType(0),new PercentType(0)))
	}
	/*Hell*/ if (receivedCommand==3) { 
	/*Weiss*/ sendCommand(Scene_ColorSelect_EZ_Deckenlampe, new HSBType(new DecimalType(0),new PercentType(0),new PercentType(100)))
	/*Weiss*/ Thread::sleep(500) sendCommand(Scene_ColorSelect_EZ_Buecherregal, new HSBType(new DecimalType(0),new PercentType(0),new PercentType(100)))
	/*Weiss*/ Thread::sleep(500) sendCommand(Scene_ColorSelect_EZ_Sideboard, new HSBType(new DecimalType(0),new PercentType(0),new PercentType(100)))
	}
	/*Stimmung*/ if (receivedCommand==4) { 
	/*Lila*/ sendCommand(Scene_ColorSelect_EZ_Deckenlampe, new HSBType(new DecimalType(300),new PercentType(100),new PercentType(100)))
	/*Grün*/ Thread::sleep(500) sendCommand(Scene_ColorSelect_EZ_Buecherregal, new HSBType(new DecimalType(130),new PercentType(100),new PercentType(100)))
	/*Türkis*/ Thread::sleep(500) sendCommand(Scene_ColorSelect_EZ_Sideboard, new HSBType(new DecimalType(190),new PercentType(100),new PercentType(100)))
	}
	/*Grün*/ if (receivedCommand==5) { 
	/*Grün*/ sendCommand(Scene_ColorSelect_EZ_Deckenlampe, new HSBType(new DecimalType(130),new PercentType(100),new PercentType(100)))
	/*Grün*/ Thread::sleep(500) sendCommand(Scene_ColorSelect_EZ_Buecherregal, new HSBType(new DecimalType(130),new PercentType(100),new PercentType(100)))
	/*Grün*/ Thread::sleep(500) sendCommand(Scene_ColorSelect_EZ_Sideboard, new HSBType(new DecimalType(130),new PercentType(100),new PercentType(100)))
	}
	end

I'm using no .sitemap but Habpanel and buttons for each scene.
[URL=http://www.imagebam.com/image/00e881516061016]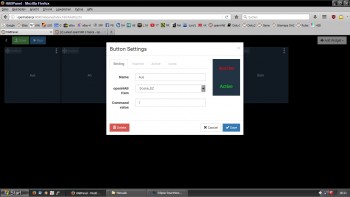 [/URL]
Oh, and the other small thing is when changing the scene all of the bulbs flickers shortly 1x before taking the new setting