Hi Community,
i have upgraded (via openhabian-config->[40]->[41]) from 3.2 to 3.4.4 without any noticeable problem.
Now, i recognize that in Main UI i no longer receive a complete list of items to which i like to link a channel to. Only a list of 7 items is shown - in total i have 259 items.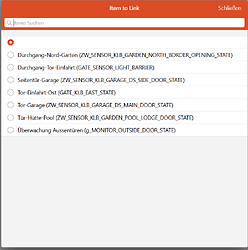 If i go the oppsite way and open the item first and click on "Add link" i can choose the corresponding Thing but no channels are displayed for it.
This behaviour seems to be apparent for any other Thing i try.
All this has worked before, since i used only the UI for all my links which are currently in place.
The link i need to add now was in principle there before, but due to a re-inclusion of a zwave device i need to re-link the items to a new Thing (new node ID).
All my configurations a re done via Main UI (Items, Link, Thing) except the rules.
My OH3 installation that time back was a complete new installation, just in case that is of interest.
Does anybody know what the problem can be or can support me in narrow further down the cause of this behaviour?
Thanks a lot
BR Henning
Hardware: Raspberry Pi 4 Model B Rev 1.4/2GB/SSD 230 GB
OS: Raspbian GNU/Linux 10 (buster) / Linux 5.10.63-v7l+
Java Runtime Environment:
openjdk version "11.0.9" 2020-10-20 LTS
OpenJDK Runtime Environment Zulu11.43+88-CA (build 11.0.9+11-LTS)
OpenJDK Client VM Zulu11.43+88-CA (build 11.0.9+11-LTS, mixed mode)
openHAB version: 3.4.4 Release Build