Hello everyone. I'm now doing my smart home with zigbee device. Recently I've just bought some set of Zigbee device eg; SNBZ-02, SNBZ-03. Zigbee light switch and Zigbee RGB controller GL-C-008 (GLEDOPTO) and it's worked fine with Zigbee2mqtt + C2531 USB Dongle
I've just recently buy Sonoff Zigbee bridge and want to flash it with Tasmota firmware. expect to use it with openhab zigbee-binding. So I follow instruction from below link:
flashing-tasmota-on-sonoff-zigbee-bridge
I'm using CH340 USB TTL module and connect to Sonoff Zbbridge as diagram below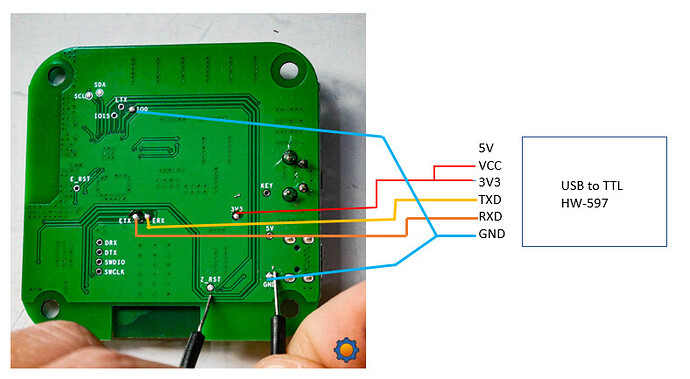 The sonoff zigbee bridge show permanently green light after connect USB to my laptop
Then I'm trying to flash it with Tasmotizer and It's appear error: Failed to connect ESP8266. Time out
even I tried with PyFlasher. It's also cannot connect to esp8266 module. like with Tasmotizer.
I've also try switched between TX RX. The result still the same.
Are there anyone here facing this problem before?. Or did I've done anything wrong?
Sorry if I explain not clearly and my bad English grammar. I'm very new here.