hi,
playing around with widgets and got following questions:
I can't figure out how to change the background image of that widget (pic1).
I tried background-image and backgroundImage on different lines, none is working…
how does one know which is the correct syntax for changing the image?

what do the three dots in the top right corner mean (pic1)?
I configured a pop-up to appear, this works fine as long as I click anywhere an the widget.
when clicking on the three dots I get a wired mix of the label-cell & weather widget, see pic2

how do I get that widget onto my semantic model home page?
pic1: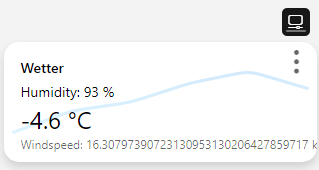 pic2:

 component: oh-label-cell
 config:
   background-image: /static/Haus.jpg
   footer: "='Windspeed: ' + items.localCurrentWindspeed.state"
   action: popup
   actionModal: widget:weather_card
   actionModalConfig: {}
   trendItem: localCurrentApparentTemp
   item: localCurrentApparentTemp
   title: Wetter
   subtitle: "='Humidity: ' + items.localCurrentHumidity.state"
 slots: null