Platform information:

Hardware: Raspberry PI 3b
OS: OpenHABian
openHAB version:2.5.0.M1
I have a number of HS100 and HS100 TPLink smart sockets that I'm trying to automate through Paper UI and Node Red. These are being automatically discovered correctly, but I cannot connect items to the 'Switch' channel. When I try to do so through the paperui interface there are no choice to select for the profile. Upon submission the item is created, but it is not linked to the channel.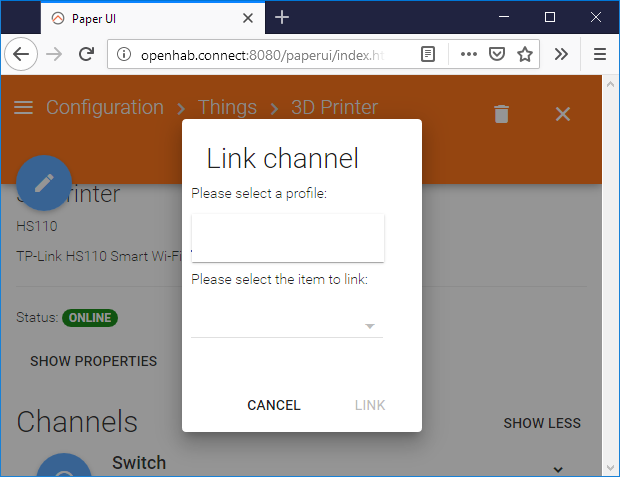 I had a dig through the http traffic and I can see a call to http://openhab.connect:8080/rest/profile-types?channelTypeUID=tplinksmarthome:switch which should return the profile options, but it is returning only an empty array:
[]

If I enable simple mode to automatically create items then the item creation and linking works perfectly, except that I cannot edit the item to assign it to the groups I need it to belong to.
I have tried the bundled binding, and also the beta version available through the Eclipse IoT marketplace, but both behave identically.
Are there any workarounds to force the profile options to become available? (Or to force my groups into the automatically created items?)