I have so many issues with my zwave network, and I have a feeling that it is getting worse and worse. After a restart of OH, I will not have a working for many hours (well it can work, but very randomly and slow). Sometimes, I need to restart OH a couple of times, to get the zwave net up and running at all - the debug logging simply stops when it does not work.
So, I decided to try to clean up my controller node list a bit. I have about 75 working nodes and about 5-10 nodes that are missing due to them breaking down, or otherwise removed. Maybe they are part of the problem?!
I suspect that another problem is the fact that my two story house has a concrete slab between the floors, and other non-optimal rf environment, especially in the basement/ground floor (concrete and brick walls, chimeys etc etc).
So I started the zensys tool, and afict, there's no manual or help on this software - but I found some information on the net, suggesting to select the dead node, and simply press the "remove failed node" button.
However, this does not work - e.g. my node 2 and 3 are long gone, but when I select node 3, the software reports back that it failed to remove the failed node;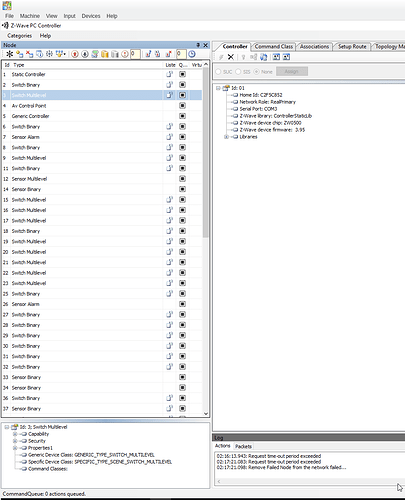 Am I doing this the wrong way? I have also tried to select a dead node, and then press the 'Is Failed' button - sometime the node text then turns red. But it still fails to remove it.
And even stranger - I just now selected node 2, which also is missing since a couple of years, and pressed 'Is Failed' - where the tool responds "Selected Node is normally running"! But it cannot, and looking at the Topology map, it is totally red - no nodes know about it!
I tried a couple of times, with the same outcome. Then I tried to set Basic ON/OFF on the same node a couple of times, after finally, I could set the node as Failed. But cannot be removed using the 'Remove Failed' button.
If anyone have any suggestion why this does not work, or really, any kind of help at all

I'd appreciate it!
Edit: It seams that I need to be persistant in trying - after about 10 tries, I can remove my first node!


This is the exact way of doing (in my case I had to try many times) Remove a ghost Z-Wave Node from HABmin?