Hi all,
I'm using the Zigbee binding and a HUE CCT panel.
If I set the slider to 0 (see Video) it jumps back to 100 without an entry in the event log. I can see the command 0 but nothing with 100.
The light is Physically off in the end but the Linked item jumps to 100
Any ideas?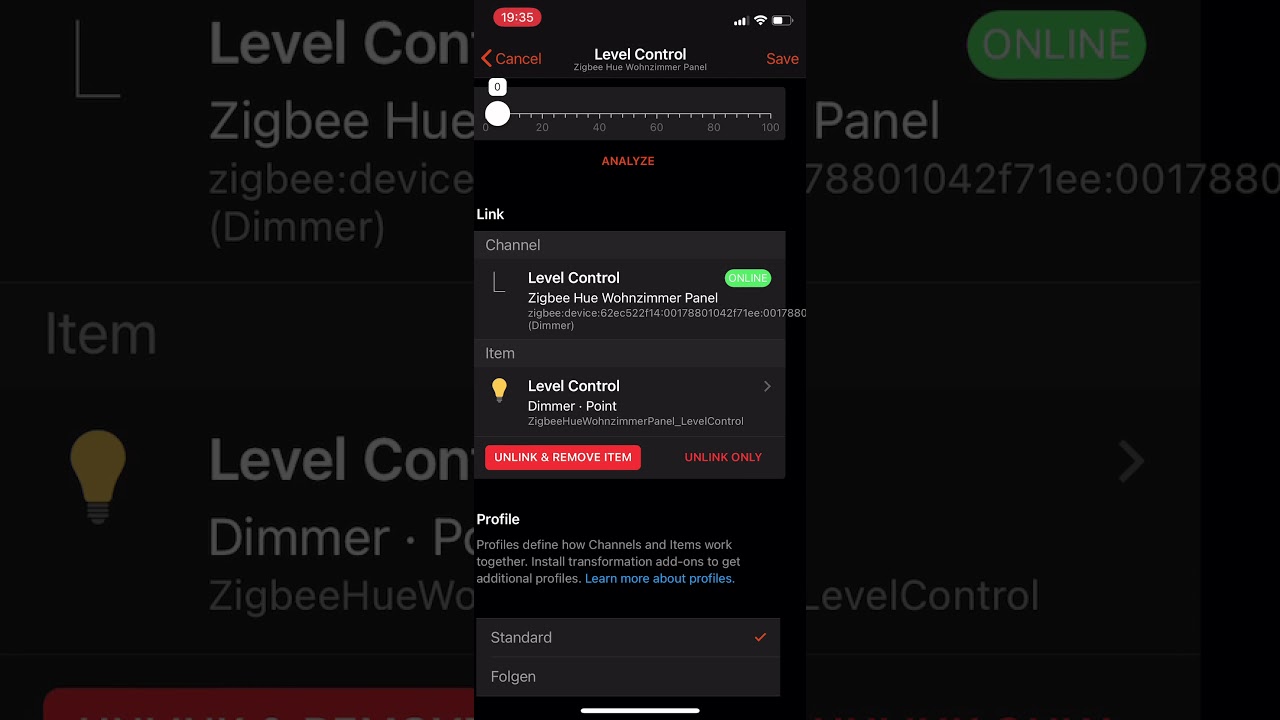 ==> /var/log/openhab/events.log <==
2021-11-29 20:32:38.616 [INFO ] [openhab.event.ItemCommandEvent      ] - Item 'ZigbeeHueWohnzimmerPanel_LevelControl' received command 54
2021-11-29 20:32:38.818 [INFO ] [openhab.event.ItemCommandEvent      ] - Item 'ZigbeeHueWohnzimmerPanel_LevelControl' received command 20
2021-11-29 20:32:39.024 [INFO ] [openhab.event.ItemCommandEvent      ] - Item 'ZigbeeHueWohnzimmerPanel_LevelControl' received command 0
==> /var/log/openhab/openhab.log <==
2021-11-29 20:32:38.616 [DEBUG] [zigbee.dongle.ember.ZigBeeDongleEzsp] - RX EZSP: EzspMessageSentHandler [networkId=0, type=EMBER_OUTGOING_DIRECT, indexOrDestination=44AC, apsFrame=EmberApsFrame [profileId=0104, clusterId=0008, sourceEndpoint=1, destinationEndpoint=11, options=[EMBER_APS_OPTION_ENABLE_ADDRESS_DISCOVERY, EMBER_APS_OPTION_RETRY, EMBER_APS_OPTION_ENABLE_ROUTE_DISCOVERY], groupId=0, sequence=C8], messageTag=14, status=EMBER_SUCCESS, messageContents=]
2021-11-29 20:32:38.618 [DEBUG] [tsystems.zigbee.ZigBeeNetworkManager] - RX STA: msgTag=14 state=RX_ACK
2021-11-29 20:32:38.619 [DEBUG] [transaction.ZigBeeTransactionManager] - notifyTransactionProgress: TID=14, state=RX_ACK, outstanding=1
2021-11-29 20:32:38.621 [DEBUG] [zigbee.transaction.ZigBeeTransaction] - Transaction state changed: nwk=44AC, TID=14, event=RX_ACK, state=ACKED
2021-11-29 20:32:38.634 [DEBUG] [ng.zigbee.handler.ZigBeeThingHandler] - 00178801042F71EE: Command for channel zigbee:device:62ec522f14:00178801042f71ee:00178801042F71EE_11_dimmer --> 54 [PercentType]
2021-11-29 20:32:38.636 [DEBUG] [zigbee.dongle.ember.ZigBeeDongleEzsp] - RX EZSP: EzspIncomingRouteRecordHandler [networkId=0, source=44AC, sourceEui=00178801042F71EE, lastHopLqi=168, lastHopRssi=-58, relayList=]
2021-11-29 20:32:38.637 [DEBUG] [e.transaction.ZigBeeTransactionQueue] - 00178801042F71EE: Added transaction to queue, len=1, transaction=ZigBeeTransaction [ieeeAddress=00178801042F71EE queueTime=0, state=WAITING, sendCnt=0, command=MoveToLevelWithOnOffCommand [Level Control: 0000/0 -> 44AC/11, cluster=0008, TID=--, level=137, transitionTime=10]]
2021-11-29 20:32:38.638 [DEBUG] [transaction.ZigBeeTransactionManager] - Transaction Manager: Send Next transaction. outstandingTransactions=1, outstandingQueues=1, sleepy=0/3
2021-11-29 20:32:38.639 [DEBUG] [converter.ZigBeeBaseChannelConverter] - 00178801042F71EE: Channel zigbee:device:62ec522f14:00178801042f71ee:00178801042F71EE_11_dimmer waiting for response to 54
2021-11-29 20:32:38.722 [DEBUG] [zigbee.dongle.ember.ZigBeeDongleEzsp] - RX EZSP: EzspIncomingMessageHandler [networkId=0, type=EMBER_INCOMING_UNICAST, apsFrame=EmberApsFrame [profileId=0104, clusterId=0008, sourceEndpoint=11, destinationEndpoint=1, options=[EMBER_APS_OPTION_ENABLE_ROUTE_DISCOVERY], groupId=0, sequence=84], lastHopLqi=168, lastHopRssi=-58, sender=44AC, bindingIndex=255, addressIndex=255, messageContents=18 14 0B 04 00]
2021-11-29 20:32:38.724 [DEBUG] [tsystems.zigbee.ZigBeeNetworkManager] - RX APS: ZigBeeApsFrame [sourceAddress=44AC/11, destinationAddress=0000/1, profile=0104, cluster=0008, addressMode=DEVICE, radius=0, apsSecurity=false, ackRequest=false, apsCounter=84, rssi=-58, lqi=A8, payload=18 14 0B 04 00]
2021-11-29 20:32:38.725 [DEBUG] [tsystems.zigbee.ZigBeeNetworkManager] - 00178801042F71EE: Node update. NWK Address=44AC
2021-11-29 20:32:38.727 [DEBUG] [tsystems.zigbee.ZigBeeNetworkManager] - 00178801042F71EE: Node 44AC is not updated
2021-11-29 20:32:38.728 [DEBUG] [tsystems.zigbee.ZigBeeNetworkManager] - RX ZCL: ZclHeader [frameType=ENTIRE_PROFILE_COMMAND, manufacturerSpecific=false, direction=SERVER_TO_CLIENT, disableDefaultResponse=true, manufacturerCode=0, sequenceNumber=20, commandId=11]
2021-11-29 20:32:38.729 [DEBUG] [tsystems.zigbee.ZigBeeNetworkManager] - RX CMD: DefaultResponse [Level Control: 44AC/11 -> 0000/1, cluster=0008, TID=14, commandIdentifier=4, statusCode=SUCCESS]
2021-11-29 20:32:38.730 [DEBUG] [transaction.ZigBeeTransactionManager] - notifyTransactionCommand: DefaultResponse [Level Control: 44AC/11 -> 0000/1, cluster=0008, TID=14, commandIdentifier=4, statusCode=SUCCESS] 
2021-11-29 20:32:38.732 [DEBUG] [transaction.ZigBeeTransactionManager] - Transaction complete: ZigBeeTransaction [ieeeAddress=00178801042F71EE queueTime=299, state=COMPLETE, sendCnt=1, command=MoveToLevelWithOnOffCommand [Level Control: 0000/0 -> 44AC/11, cluster=0008, TID=14, level=206, transitionTime=10]]
2021-11-29 20:32:38.733 [DEBUG] [transaction.ZigBeeTransactionManager] - transactionListenerRemoved: 0 outstanding
2021-11-29 20:32:38.733 [DEBUG] [converter.ZigBeeBaseChannelConverter] - 00178801042F71EE: Channel zigbee:device:62ec522f14:00178801042f71ee:00178801042F71EE_11_dimmer received SUCCESS in response to 81
2021-11-29 20:32:38.734 [DEBUG] [e.transaction.ZigBeeTransactionQueue] - 00178801042F71EE: transactionComplete, state=COMPLETE, outstanding=0
2021-11-29 20:32:38.734 [DEBUG] [transaction.ZigBeeTransactionManager] - Transaction Manager: Send Next transaction. outstandingTransactions=0, outstandingQueues=1, sleepy=0/3
2021-11-29 20:32:38.736 [DEBUG] [transaction.ZigBeeTransactionManager] - 44AC/11: Sending ZigBeeTransaction [ieeeAddress=00178801042F71EE queueTime=100, state=WAITING, sendCnt=0, command=MoveToLevelWithOnOffCommand [Level Control: 0000/0 -> 44AC/11, cluster=0008, TID=15, level=137, transitionTime=10]]
2021-11-29 20:32:38.737 [DEBUG] [transaction.ZigBeeTransactionManager] - transactionListenerAdded: 1 outstanding
2021-11-29 20:32:38.738 [DEBUG] [tsystems.zigbee.ZigBeeNetworkManager] - TX CMD: MoveToLevelWithOnOffCommand [Level Control: 0000/0 -> 44AC/11, cluster=0008, TID=15, level=137, transitionTime=10]
2021-11-29 20:32:38.739 [DEBUG] [tsystems.zigbee.ZigBeeNetworkManager] - TX ZCL: ZclHeader [frameType=CLUSTER_SPECIFIC_COMMAND, manufacturerSpecific=false, direction=CLIENT_TO_SERVER, disableDefaultResponse=false, manufacturerCode=0, sequenceNumber=21, commandId=4]
2021-11-29 20:32:38.740 [DEBUG] [tsystems.zigbee.ZigBeeNetworkManager] - TX APS: ZigBeeApsFrame [sourceAddress=0000/1, destinationAddress=44AC/11, profile=0104, cluster=0008, addressMode=DEVICE, radius=8, apsSecurity=false, ackRequest=true, apsCounter=9C, rssi=--, lqi=--, payload=01 15 04 89 0A 00]
2021-11-29 20:32:38.754 [DEBUG] [zigbee.dongle.ember.ZigBeeDongleEzsp] - RX EZSP: EzspSendUnicastResponse [networkId=0, status=EMBER_SUCCESS, sequence=C9]
2021-11-29 20:32:38.779 [DEBUG] [zigbee.dongle.ember.ZigBeeDongleEzsp] - RX EZSP: EzspIncomingRouteRecordHandler [networkId=0, source=44AC, sourceEui=00178801042F71EE, lastHopLqi=168, lastHopRssi=-58, relayList=]
2021-11-29 20:32:38.833 [DEBUG] [ng.zigbee.handler.ZigBeeThingHandler] - 00178801042F71EE: Command for channel zigbee:device:62ec522f14:00178801042f71ee:00178801042F71EE_11_dimmer --> 20 [PercentType]
2021-11-29 20:32:38.835 [DEBUG] [e.transaction.ZigBeeTransactionQueue] - 00178801042F71EE: Added transaction to queue, len=1, transaction=ZigBeeTransaction [ieeeAddress=00178801042F71EE queueTime=0, state=WAITING, sendCnt=0, command=MoveToLevelWithOnOffCommand [Level Control: 0000/0 -> 44AC/11, cluster=0008, TID=--, level=51, transitionTime=10]]
2021-11-29 20:32:38.836 [DEBUG] [transaction.ZigBeeTransactionManager] - Transaction Manager: Send Next transaction. outstandingTransactions=1, outstandingQueues=1, sleepy=0/3
2021-11-29 20:32:38.838 [DEBUG] [converter.ZigBeeBaseChannelConverter] - 00178801042F71EE: Channel zigbee:device:62ec522f14:00178801042f71ee:00178801042F71EE_11_dimmer waiting for response to 20
2021-11-29 20:32:38.866 [DEBUG] [zigbee.dongle.ember.ZigBeeDongleEzsp] - RX EZSP: EzspMessageSentHandler [networkId=0, type=EMBER_OUTGOING_DIRECT, indexOrDestination=44AC, apsFrame=EmberApsFrame [profileId=0104, clusterId=0008, sourceEndpoint=1, destinationEndpoint=11, options=[EMBER_APS_OPTION_ENABLE_ADDRESS_DISCOVERY, EMBER_APS_OPTION_RETRY, EMBER_APS_OPTION_ENABLE_ROUTE_DISCOVERY], groupId=0, sequence=C9], messageTag=15, status=EMBER_SUCCESS, messageContents=]
2021-11-29 20:32:38.868 [DEBUG] [tsystems.zigbee.ZigBeeNetworkManager] - RX STA: msgTag=15 state=RX_ACK
2021-11-29 20:32:38.869 [DEBUG] [transaction.ZigBeeTransactionManager] - notifyTransactionProgress: TID=15, state=RX_ACK, outstanding=1
2021-11-29 20:32:38.871 [DEBUG] [zigbee.transaction.ZigBeeTransaction] - Transaction state changed: nwk=44AC, TID=15, event=RX_ACK, state=ACKED
2021-11-29 20:32:38.886 [DEBUG] [zigbee.dongle.ember.ZigBeeDongleEzsp] - RX EZSP: EzspIncomingRouteRecordHandler [networkId=0, source=44AC, sourceEui=00178801042F71EE, lastHopLqi=168, lastHopRssi=-58, relayList=]
2021-11-29 20:32:38.973 [DEBUG] [zigbee.dongle.ember.ZigBeeDongleEzsp] - RX EZSP: EzspIncomingMessageHandler [networkId=0, type=EMBER_INCOMING_UNICAST, apsFrame=EmberApsFrame [profileId=0104, clusterId=0008, sourceEndpoint=11, destinationEndpoint=1, options=[EMBER_APS_OPTION_ENABLE_ROUTE_DISCOVERY], groupId=0, sequence=85], lastHopLqi=168, lastHopRssi=-58, sender=44AC, bindingIndex=255, addressIndex=255, messageContents=18 15 0B 04 00]
2021-11-29 20:32:38.974 [DEBUG] [tsystems.zigbee.ZigBeeNetworkManager] - RX APS: ZigBeeApsFrame [sourceAddress=44AC/11, destinationAddress=0000/1, profile=0104, cluster=0008, addressMode=DEVICE, radius=0, apsSecurity=false, ackRequest=false, apsCounter=85, rssi=-58, lqi=A8, payload=18 15 0B 04 00]
2021-11-29 20:32:38.976 [DEBUG] [tsystems.zigbee.ZigBeeNetworkManager] - 00178801042F71EE: Node update. NWK Address=44AC
2021-11-29 20:32:38.977 [DEBUG] [tsystems.zigbee.ZigBeeNetworkManager] - 00178801042F71EE: Node 44AC is not updated
2021-11-29 20:32:38.978 [DEBUG] [tsystems.zigbee.ZigBeeNetworkManager] - RX ZCL: ZclHeader [frameType=ENTIRE_PROFILE_COMMAND, manufacturerSpecific=false, direction=SERVER_TO_CLIENT, disableDefaultResponse=true, manufacturerCode=0, sequenceNumber=21, commandId=11]
2021-11-29 20:32:38.980 [DEBUG] [tsystems.zigbee.ZigBeeNetworkManager] - RX CMD: DefaultResponse [Level Control: 44AC/11 -> 0000/1, cluster=0008, TID=15, commandIdentifier=4, statusCode=SUCCESS]
2021-11-29 20:32:38.981 [DEBUG] [transaction.ZigBeeTransactionManager] - notifyTransactionCommand: DefaultResponse [Level Control: 44AC/11 -> 0000/1, cluster=0008, TID=15, commandIdentifier=4, statusCode=SUCCESS] 
2021-11-29 20:32:38.982 [DEBUG] [converter.ZigBeeBaseChannelConverter] - 00178801042F71EE: Channel zigbee:device:62ec522f14:00178801042f71ee:00178801042F71EE_11_dimmer received SUCCESS in response to 54
2021-11-29 20:32:38.982 [DEBUG] [transaction.ZigBeeTransactionManager] - Transaction complete: ZigBeeTransaction [ieeeAddress=00178801042F71EE queueTime=346, state=COMPLETE, sendCnt=1, command=MoveToLevelWithOnOffCommand [Level Control: 0000/0 -> 44AC/11, cluster=0008, TID=15, level=137, transitionTime=10]]
2021-11-29 20:32:38.985 [DEBUG] [transaction.ZigBeeTransactionManager] - transactionListenerRemoved: 0 outstanding
2021-11-29 20:32:38.986 [DEBUG] [e.transaction.ZigBeeTransactionQueue] - 00178801042F71EE: transactionComplete, state=COMPLETE, outstanding=0
2021-11-29 20:32:38.987 [DEBUG] [transaction.ZigBeeTransactionManager] - Transaction Manager: Send Next transaction. outstandingTransactions=0, outstandingQueues=1, sleepy=0/3
2021-11-29 20:32:38.989 [DEBUG] [transaction.ZigBeeTransactionManager] - 44AC/11: Sending ZigBeeTransaction [ieeeAddress=00178801042F71EE queueTime=153, state=WAITING, sendCnt=0, command=MoveToLevelWithOnOffCommand [Level Control: 0000/0 -> 44AC/11, cluster=0008, TID=16, level=51, transitionTime=10]]
2021-11-29 20:32:38.990 [DEBUG] [transaction.ZigBeeTransactionManager] - transactionListenerAdded: 1 outstanding
2021-11-29 20:32:38.991 [DEBUG] [tsystems.zigbee.ZigBeeNetworkManager] - TX CMD: MoveToLevelWithOnOffCommand [Level Control: 0000/0 -> 44AC/11, cluster=0008, TID=16, level=51, transitionTime=10]
2021-11-29 20:32:38.993 [DEBUG] [tsystems.zigbee.ZigBeeNetworkManager] - TX ZCL: ZclHeader [frameType=CLUSTER_SPECIFIC_COMMAND, manufacturerSpecific=false, direction=CLIENT_TO_SERVER, disableDefaultResponse=false, manufacturerCode=0, sequenceNumber=22, commandId=4]
2021-11-29 20:32:38.995 [DEBUG] [tsystems.zigbee.ZigBeeNetworkManager] - TX APS: ZigBeeApsFrame [sourceAddress=0000/1, destinationAddress=44AC/11, profile=0104, cluster=0008, addressMode=DEVICE, radius=8, apsSecurity=false, ackRequest=true, apsCounter=9D, rssi=--, lqi=--, payload=01 16 04 33 0A 00]
2021-11-29 20:32:39.007 [DEBUG] [zigbee.dongle.ember.ZigBeeDongleEzsp] - RX EZSP: EzspSendUnicastResponse [networkId=0, status=EMBER_SUCCESS, sequence=CA]
2021-11-29 20:32:39.032 [DEBUG] [zigbee.dongle.ember.ZigBeeDongleEzsp] - RX EZSP: EzspIncomingRouteRecordHandler [networkId=0, source=44AC, sourceEui=00178801042F71EE, lastHopLqi=168, lastHopRssi=-58, relayList=]
2021-11-29 20:32:39.040 [DEBUG] [ng.zigbee.handler.ZigBeeThingHandler] - 00178801042F71EE: Command for channel zigbee:device:62ec522f14:00178801042f71ee:00178801042F71EE_11_dimmer --> 0 [PercentType]
2021-11-29 20:32:39.043 [DEBUG] [e.transaction.ZigBeeTransactionQueue] - 00178801042F71EE: Added transaction to queue, len=1, transaction=ZigBeeTransaction [ieeeAddress=00178801042F71EE queueTime=0, state=WAITING, sendCnt=0, command=OffCommand [On/Off: 0000/0 -> 44AC/11, cluster=0006, TID=--]]
2021-11-29 20:32:39.044 [DEBUG] [transaction.ZigBeeTransactionManager] - Transaction Manager: Send Next transaction. outstandingTransactions=1, outstandingQueues=1, sleepy=0/3
2021-11-29 20:32:39.045 [DEBUG] [converter.ZigBeeBaseChannelConverter] - 00178801042F71EE: Channel zigbee:device:62ec522f14:00178801042f71ee:00178801042F71EE_11_dimmer waiting for response to 0
2021-11-29 20:32:39.116 [DEBUG] [zigbee.dongle.ember.ZigBeeDongleEzsp] - RX EZSP: EzspMessageSentHandler [networkId=0, type=EMBER_OUTGOING_DIRECT, indexOrDestination=44AC, apsFrame=EmberApsFrame [profileId=0104, clusterId=0008, sourceEndpoint=1, destinationEndpoint=11, options=[EMBER_APS_OPTION_ENABLE_ADDRESS_DISCOVERY, EMBER_APS_OPTION_RETRY, EMBER_APS_OPTION_ENABLE_ROUTE_DISCOVERY], groupId=0, sequence=CA], messageTag=16, status=EMBER_SUCCESS, messageContents=]
2021-11-29 20:32:39.117 [DEBUG] [tsystems.zigbee.ZigBeeNetworkManager] - RX STA: msgTag=16 state=RX_ACK
2021-11-29 20:32:39.118 [DEBUG] [transaction.ZigBeeTransactionManager] - notifyTransactionProgress: TID=16, state=RX_ACK, outstanding=1
2021-11-29 20:32:39.119 [DEBUG] [zigbee.transaction.ZigBeeTransaction] - Transaction state changed: nwk=44AC, TID=16, event=RX_ACK, state=ACKED
2021-11-29 20:32:39.136 [DEBUG] [zigbee.dongle.ember.ZigBeeDongleEzsp] - RX EZSP: EzspIncomingRouteRecordHandler [networkId=0, source=44AC, sourceEui=00178801042F71EE, lastHopLqi=168, lastHopRssi=-58, relayList=]
2021-11-29 20:32:39.222 [DEBUG] [zigbee.dongle.ember.ZigBeeDongleEzsp] - RX EZSP: EzspIncomingMessageHandler [networkId=0, type=EMBER_INCOMING_UNICAST, apsFrame=EmberApsFrame [profileId=0104, clusterId=0008, sourceEndpoint=11, destinationEndpoint=1, options=[EMBER_APS_OPTION_ENABLE_ROUTE_DISCOVERY], groupId=0, sequence=86], lastHopLqi=168, lastHopRssi=-58, sender=44AC, bindingIndex=255, addressIndex=255, messageContents=18 16 0B 04 00]
2021-11-29 20:32:39.224 [DEBUG] [tsystems.zigbee.ZigBeeNetworkManager] - RX APS: ZigBeeApsFrame [sourceAddress=44AC/11, destinationAddress=0000/1, profile=0104, cluster=0008, addressMode=DEVICE, radius=0, apsSecurity=false, ackRequest=false, apsCounter=86, rssi=-58, lqi=A8, payload=18 16 0B 04 00]
2021-11-29 20:32:39.225 [DEBUG] [tsystems.zigbee.ZigBeeNetworkManager] - 00178801042F71EE: Node update. NWK Address=44AC
2021-11-29 20:32:39.227 [DEBUG] [tsystems.zigbee.ZigBeeNetworkManager] - 00178801042F71EE: Node 44AC is not updated
2021-11-29 20:32:39.228 [DEBUG] [tsystems.zigbee.ZigBeeNetworkManager] - RX ZCL: ZclHeader [frameType=ENTIRE_PROFILE_COMMAND, manufacturerSpecific=false, direction=SERVER_TO_CLIENT, disableDefaultResponse=true, manufacturerCode=0, sequenceNumber=22, commandId=11]
2021-11-29 20:32:39.229 [DEBUG] [tsystems.zigbee.ZigBeeNetworkManager] - RX CMD: DefaultResponse [Level Control: 44AC/11 -> 0000/1, cluster=0008, TID=16, commandIdentifier=4, statusCode=SUCCESS]
2021-11-29 20:32:39.230 [DEBUG] [transaction.ZigBeeTransactionManager] - notifyTransactionCommand: DefaultResponse [Level Control: 44AC/11 -> 0000/1, cluster=0008, TID=16, commandIdentifier=4, statusCode=SUCCESS] 
2021-11-29 20:32:39.232 [DEBUG] [converter.ZigBeeBaseChannelConverter] - 00178801042F71EE: Channel zigbee:device:62ec522f14:00178801042f71ee:00178801042F71EE_11_dimmer received SUCCESS in response to 20
2021-11-29 20:32:39.232 [DEBUG] [transaction.ZigBeeTransactionManager] - Transaction complete: ZigBeeTransaction [ieeeAddress=00178801042F71EE queueTime=397, state=COMPLETE, sendCnt=1, command=MoveToLevelWithOnOffCommand [Level Control: 0000/0 -> 44AC/11, cluster=0008, TID=16, level=51, transitionTime=10]]
2021-11-29 20:32:39.233 [DEBUG] [transaction.ZigBeeTransactionManager] - transactionListenerRemoved: 0 outstanding
2021-11-29 20:32:39.235 [DEBUG] [e.transaction.ZigBeeTransactionQueue] - 00178801042F71EE: transactionComplete, state=COMPLETE, outstanding=0
2021-11-29 20:32:39.236 [DEBUG] [transaction.ZigBeeTransactionManager] - Transaction Manager: Send Next transaction. outstandingTransactions=0, outstandingQueues=1, sleepy=0/3
2021-11-29 20:32:39.237 [DEBUG] [transaction.ZigBeeTransactionManager] - 44AC/11: Sending ZigBeeTransaction [ieeeAddress=00178801042F71EE queueTime=195, state=WAITING, sendCnt=0, command=OffCommand [On/Off: 0000/0 -> 44AC/11, cluster=0006, TID=17]]
2021-11-29 20:32:39.239 [DEBUG] [transaction.ZigBeeTransactionManager] - transactionListenerAdded: 1 outstanding
2021-11-29 20:32:39.240 [DEBUG] [tsystems.zigbee.ZigBeeNetworkManager] - TX CMD: OffCommand [On/Off: 0000/0 -> 44AC/11, cluster=0006, TID=17]
2021-11-29 20:32:39.241 [DEBUG] [tsystems.zigbee.ZigBeeNetworkManager] - TX ZCL: ZclHeader [frameType=CLUSTER_SPECIFIC_COMMAND, manufacturerSpecific=false, direction=CLIENT_TO_SERVER, disableDefaultResponse=false, manufacturerCode=0, sequenceNumber=23, commandId=0]
2021-11-29 20:32:39.243 [DEBUG] [tsystems.zigbee.ZigBeeNetworkManager] - TX APS: ZigBeeApsFrame [sourceAddress=0000/1, destinationAddress=44AC/11, profile=0104, cluster=0006, addressMode=DEVICE, radius=8, apsSecurity=false, ackRequest=true, apsCounter=9E, rssi=--, lqi=--, payload=01 17 00]
2021-11-29 20:32:39.255 [DEBUG] [zigbee.dongle.ember.ZigBeeDongleEzsp] - RX EZSP: EzspSendUnicastResponse [networkId=0, status=EMBER_SUCCESS, sequence=CB]
2021-11-29 20:32:39.281 [DEBUG] [zigbee.dongle.ember.ZigBeeDongleEzsp] - RX EZSP: EzspIncomingRouteRecordHandler [networkId=0, source=44AC, sourceEui=00178801042F71EE, lastHopLqi=168, lastHopRssi=-58, relayList=]
2021-11-29 20:32:39.365 [DEBUG] [zigbee.dongle.ember.ZigBeeDongleEzsp] - RX EZSP: EzspMessageSentHandler [networkId=0, type=EMBER_OUTGOING_DIRECT, indexOrDestination=44AC, apsFrame=EmberApsFrame [profileId=0104, clusterId=0006, sourceEndpoint=1, destinationEndpoint=11, options=[EMBER_APS_OPTION_ENABLE_ADDRESS_DISCOVERY, EMBER_APS_OPTION_RETRY, EMBER_APS_OPTION_ENABLE_ROUTE_DISCOVERY], groupId=0, sequence=CB], messageTag=17, status=EMBER_SUCCESS, messageContents=]
2021-11-29 20:32:39.366 [DEBUG] [tsystems.zigbee.ZigBeeNetworkManager] - RX STA: msgTag=17 state=RX_ACK
2021-11-29 20:32:39.368 [DEBUG] [transaction.ZigBeeTransactionManager] - notifyTransactionProgress: TID=17, state=RX_ACK, outstanding=1
2021-11-29 20:32:39.369 [DEBUG] [zigbee.transaction.ZigBeeTransaction] - Transaction state changed: nwk=44AC, TID=17, event=RX_ACK, state=ACKED
2021-11-29 20:32:39.385 [DEBUG] [zigbee.dongle.ember.ZigBeeDongleEzsp] - RX EZSP: EzspIncomingRouteRecordHandler [networkId=0, source=44AC, sourceEui=00178801042F71EE, lastHopLqi=168, lastHopRssi=-58, relayList=]
2021-11-29 20:32:39.473 [DEBUG] [zigbee.dongle.ember.ZigBeeDongleEzsp] - RX EZSP: EzspIncomingMessageHandler [networkId=0, type=EMBER_INCOMING_UNICAST, apsFrame=EmberApsFrame [profileId=0104, clusterId=0006, sourceEndpoint=11, destinationEndpoint=1, options=[EMBER_APS_OPTION_ENABLE_ROUTE_DISCOVERY], groupId=0, sequence=87], lastHopLqi=168, lastHopRssi=-58, sender=44AC, bindingIndex=255, addressIndex=255, messageContents=18 17 0B 00 00]
2021-11-29 20:32:39.475 [DEBUG] [tsystems.zigbee.ZigBeeNetworkManager] - RX APS: ZigBeeApsFrame [sourceAddress=44AC/11, destinationAddress=0000/1, profile=0104, cluster=0006, addressMode=DEVICE, radius=0, apsSecurity=false, ackRequest=false, apsCounter=87, rssi=-58, lqi=A8, payload=18 17 0B 00 00]
2021-11-29 20:32:39.476 [DEBUG] [tsystems.zigbee.ZigBeeNetworkManager] - 00178801042F71EE: Node update. NWK Address=44AC
2021-11-29 20:32:39.477 [DEBUG] [tsystems.zigbee.ZigBeeNetworkManager] - 00178801042F71EE: Node 44AC is not updated
2021-11-29 20:32:39.478 [DEBUG] [tsystems.zigbee.ZigBeeNetworkManager] - RX ZCL: ZclHeader [frameType=ENTIRE_PROFILE_COMMAND, manufacturerSpecific=false, direction=SERVER_TO_CLIENT, disableDefaultResponse=true, manufacturerCode=0, sequenceNumber=23, commandId=11]
2021-11-29 20:32:39.480 [DEBUG] [tsystems.zigbee.ZigBeeNetworkManager] - RX CMD: DefaultResponse [On/Off: 44AC/11 -> 0000/1, cluster=0006, TID=17, commandIdentifier=0, statusCode=SUCCESS]
2021-11-29 20:32:39.481 [DEBUG] [transaction.ZigBeeTransactionManager] - notifyTransactionCommand: DefaultResponse [On/Off: 44AC/11 -> 0000/1, cluster=0006, TID=17, commandIdentifier=0, statusCode=SUCCESS] 
2021-11-29 20:32:39.482 [DEBUG] [converter.ZigBeeBaseChannelConverter] - 00178801042F71EE: Channel zigbee:device:62ec522f14:00178801042f71ee:00178801042F71EE_11_dimmer received SUCCESS in response to 0
2021-11-29 20:32:39.483 [DEBUG] [transaction.ZigBeeTransactionManager] - Transaction complete: ZigBeeTransaction [ieeeAddress=00178801042F71EE queueTime=440, state=COMPLETE, sendCnt=1, command=OffCommand [On/Off: 0000/0 -> 44AC/11, cluster=0006, TID=17]]
2021-11-29 20:32:39.484 [DEBUG] [transaction.ZigBeeTransactionManager] - transactionListenerRemoved: 0 outstanding
2021-11-29 20:32:39.485 [DEBUG] [e.transaction.ZigBeeTransactionQueue] - 00178801042F71EE: transactionComplete, state=COMPLETE, outstanding=0
2021-11-29 20:32:39.487 [DEBUG] [transaction.ZigBeeTransactionManager] - Transaction Manager: Send Next transaction. outstandingTransactions=0, outstandingQueues=0, sleepy=0/3