Hello,
I'm using Openhabian (2.5.11) , zwave binding 2.5.11, with a zipato light bulb (1st generation) : https://www.nexiahome.com/certified-products/zipato-led-light-bulb-new
I'm using the default control on paperUi which looks like this for me :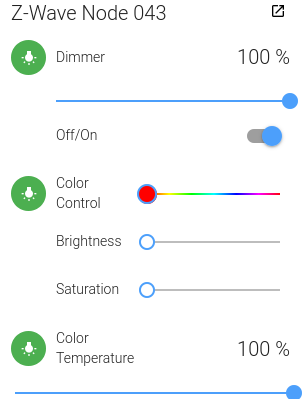 I can control the Dimmer and Color Temperature channels, it's working OK. But When I try to use the color control, the color does not change. The light just switch off, here are my channels (I don't know where is the conf file since I used only PaperUi for the moment. )

I set my zwave logs to debug, here is the logs for when I click on the widget color bar :logColor.log (256.9 KB)
Additional thing I verified : I tried to use it with home seer following another tutorial, and I managed to control the colors so the bulb is "working" and I guess I just need to do some adaptations but I don't find anything even after reading several related topics.
Maybe someone got the same issue or can provide advice on how to debug and fix it ?
(please forgive me for my english)
Thank you !