Hi Community!
I need some help in choosing hardware. Probably PLC but I'm not sure.
Here is my problem.
I have some loads - let's say mostly lights. And I have different switches. I need to control lights with different types of switches (or with different behavior of switches):
with regular fixed ON/OFF wall light switch - turn on associated Light when switch is ON, turn OFF when switch is OFF
with regular fixed ON/OFF wall light switch - but in this case invert associated Light power state on every change of switch state (like in hotels)
with push button (not fixed) switch - invert associated Light power state on every button press. Most common way used for "smart" light systems.
Also this hardware needs to communicate and be controlled by OpenHab (via Modbus/TCP/Rest/etc) and support these options:
turn ON/OF load
get state of any Light channel: ON or OFF
get state / receive events of any switch: ON, OFF, long press (where applied), etc
(optionally) temporaly disable any of switches - so its associated Light channel can be controlled only remotely.
So in general logic is pretty simple - just ON/OFF Lights in different ways. See example: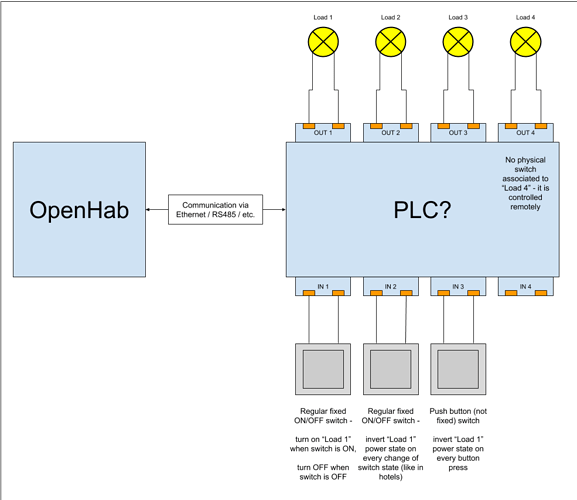 I already have done all required wiring so this is not a problem. All cables go into one place.
Very preferably: programming software should work on Linux (I don't have Windows/Mac).
I understand that all these requiretmens can be easy satisfied with home made hardware solution (Arduino or Raspberry Pi and bunch of relays) but I'm looking for something ready to use. So I will need only to program it without any soldering.
Maybe somebody can give me at least some examples of such hardware.
Thank you in advance!
P.S.
For a long time I've been using some Modbus controller for controlling lights in part of my system. It works only with push (not fixed) buttons and cannot be programmed. It does its job but I'm looking for something more flexible.