Hi,
First of all, it's nice to see that sitemaps aren't entirely dead yet and that there's still some development. However, I was quite shocked when I opened the Android App this morning.

This quite compact, showing lots of information in a confined space

: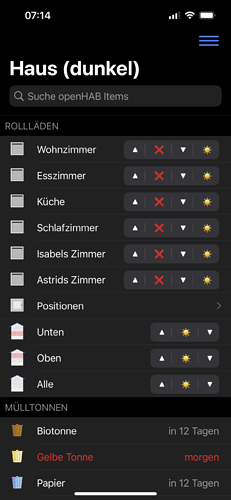 has turned into this rather unwieldy, not very space-saving … erm … "monstrosity"

:

I don't mind the read bars for the frame titles and displaying value below the item label is pretty much OK too, but the Switch are using way too much space. Is it intentional to waste all that space on a device with limited size?
Is there an option to have the buttons in a decent size so they are displayed in one line on the right side again or is there a configuration option to have the old look?
Cheers
Peter
PS:
And it's even worse in landscape mode. From this:

to this (yes, that is really only two roller shutters on the entire page.

):