Hi all,
I've managed to migrate with all my things to OH3. Great job by the way. The new UI is amazing. Maybe I don't understand some parts of the semantic model and how it should be used in OH3.
I've created my equipment from things and also created items for their channels. Because they were not shown in the Overview -> Locations in MainUI. I thought I had to change their type to what they represent. Therefore I've changed them to switch/dimmer and so on. But after that I'm no longer able to add new items and link them to their channel using the MainUI. You can only link to other channels not creating new items for them.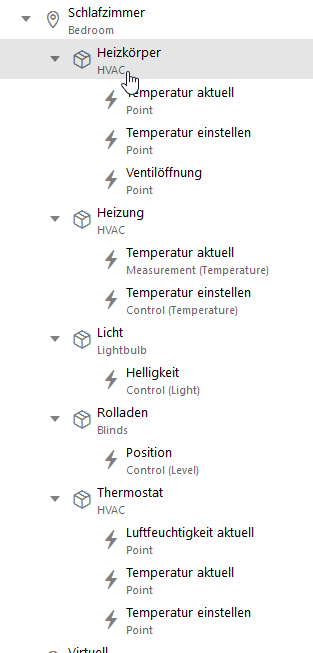 I then looked for an example in the demo.openhab.org and found GroundFloor -> Kitchen.
It shows at least an equipment with items that represent attributes of it. What I really don't understand is why should I also add them to the parent Kitchen group. At least in my mind it makes sense that the equipment is able to show/control it's main purpose by using an appropriate type and link it to the "main" channel. But then you would have to change them back to group before you're able to create and link new items.
Maybe someone can help me to understand what I misunderstood here.