@marcel_verpaalen developing the binding, what is working fine! So it is recommended:

How to add Xiaomi Mi Air Purifier to openhab2
A long time ago I waiting a solution to control my Mi Air Purifier 2 without Xiaomi cloud. A few days ago, I just found a new npm (NodeJS) package, name is miio:
https://www.npmjs.com/package/miio
And it is the GitHub link:

Unfortunately this is not in the mihome binding yet. But I hope soon will be support too.
Until this will be support, I made a solution using exec bindings.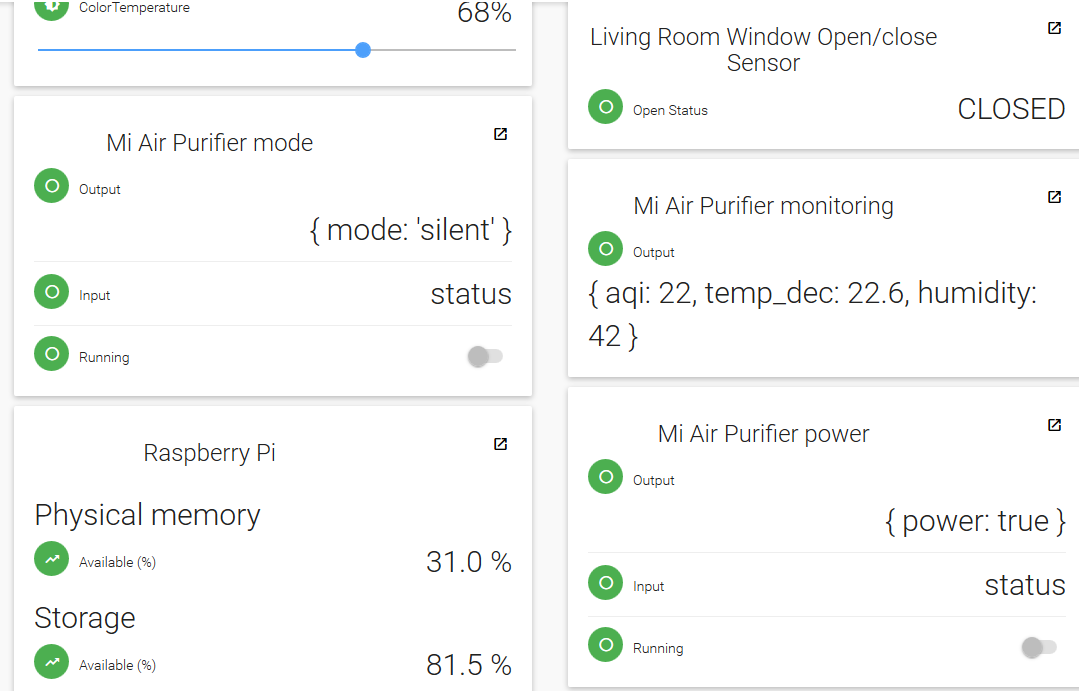 Created 3 file to control the purifier.
root@raspberrypi:/usr/share/openhab2/miairpurifier# cat control_power_miairpurifier.js
'use strict';

const miio = require('miio');
var args = process.argv.slice(2);
var exec = require('child_process').exec;


// Create a new device over the given address
const device = miio.createDevice({
        model: 'zhimi-airpurifier-m1',
        address: 'PURIFIER-IP-ADDRESS'
});

function exit() {
process.exit(-1);
}

function openhab2_rest() {
exec('curl -s -X POST --header "Content-Type: text/plain" --header "Accept: application/json" -d "status" "http://localhost:8080/rest/items/MiAirPurifierPower_Input" > /dev/null');
}

if (args == "" || args == "status" || args == "Status") {
device.getProperties([ 'power' ])
.then(console.log)
setTimeout(openhab2_rest, 7000);
setTimeout(exit, 7000);
}

if (args == "on" || args == "On" || args == "ON") {

device.setPower(true);
setTimeout(openhab2_rest, 7000);
setTimeout(exit, 7000);
}

if (args == "off" || args == "Off" || args == "OFF") {

device.setPower(false);
setTimeout(openhab2_rest, 7000);
setTimeout(exit, 7000);
}
root@raspberrypi:/usr/share/openhab2/miairpurifier#
root@raspberrypi:/usr/share/openhab2/miairpurifier# cat control_mode_miairpurifier.js
'use strict';

const miio = require('miio');
var args = process.argv.slice(2);
var exec = require('child_process').exec;


// Create a new device over the given address
const device = miio.createDevice({
        model: 'zhimi-airpurifier-m1',
        address: 'PURIFIER-IP-ADDRESS'
});

function exit() {
process.exit(-1);
}

function openhab2_rest() {
exec('curl -s -X POST --header "Content-Type: text/plain" --header "Accept: application/json" -d "status" "http://localhost:8080/rest/items/MiAirPurifierMode_Input" > /dev/null');
}

if (args == "" || args == "status" || args == "Status") {
device.getProperties([ 'mode' ])
    .then(console.log)
setTimeout(openhab2_rest, 7000);
setTimeout(exit, 7000);
}

if (args == "auto" || args == "Auto") {

device.call('set_mode', [ 'auto' ])
    .then(console.log)
setTimeout(openhab2_rest, 7000);
setTimeout(exit, 7000);
}

if (args == "sleep" || args == "Sleep") {

device.call('set_mode', [ 'silent' ])
    .then(console.log)
setTimeout(openhab2_rest, 7000);
setTimeout(exit, 7000);
}

if (args == "favorite" || args == "Favorite") {

device.call('set_mode', [ 'favorite' ])
    .then(console.log)
setTimeout(openhab2_rest, 7000);
setTimeout(exit, 7000);
}
root@raspberrypi:/usr/share/openhab2/miairpurifier#
root@raspberrypi:/usr/share/openhab2/miairpurifier# cat monitoring_miairpurifier.js
'use strict';

const miio = require('miio');

// Create a new device over the given address
const device = miio.createDevice({
        model: 'zhimi-airpurifier-m1',
        address: 'PURIFIER-IP-ADDRESS'
});


function exit() {
process.exit(-1);
}

const value = device.getProperties([ 'aqi', 'temp_dec', 'humidity' ])
        .then(console.log)

setTimeout(exit, 3000);
root@raspberrypi:/usr/share/openhab2/miairpurifier#

Example rules:
rule "Aveo Ignition OFF && Mi Air Purifier ON && E-Plug ON (work/living) When MailBox button long clicked"
when
        Channel "mihome:sensor_switch:158d00010a9812:button" triggered LONG_CLICK_PRESS
then

        if (MiAirPurifierMode_Output.state == "{ power: false }") {
        sendCommand(MiAirPurifierPower_Input, "on")
        }

        if (DSPW215WorkRoom_Output.state == "OFF") {
        logInfo("RULES", "Work Room E-Plug ON")
        sendCommand(DSPW215WorkRoom_Input, "on")
        }

        if (DSPW215LivingRoom_Output.state == "OFF") {
        logInfo("RULES", "Living Room E-Plug ON")
        sendCommand(DSPW215LivingRoom_Input, "on")
        }

        if (AveoStatus_Output.state == "Ignition On") {
        logInfo("RULES", "Aveo Ignition OFF When MailBox button long clicked")
        sendCommand(AveoStatus_Input, "Stop")
        }
end

rule "Change Mi Air Purifier mode to sleep"
when
        Time cron "0 0 23 ? * MON-SUN" //Everyday at 11pm
then
        if (MiAirPurifierMode_Output.state == "{ mode: auto }" && MiAirPurifierPower_Output.state == "{ power: true }") {
        sendCommand(MiAirPurifierMode_Input, "sleep")
        }
end


rule "Change Mi Air Purifier mode to auto"
when
        Time cron "0 0 7 ? * MON-SUN" //Every weekday at 7am
then
        if (MiAirPurifierMode_Output.state == "{ mode: silent }" && MiAirPurifierPower_Output.state == "{ power: true }") {
        sendCommand(MiAirPurifierMode_Input, "auto")
        }
end

rule "Leave Home"

when
    Channel "mihome:sensor_switch:158d00010d19de:button" triggered LONG_CLICK_PRESS
then
        var Number hour = now.getHourOfDay
        if ((hour > 7) || (hour < 9)){

        if (DSPW215LivingRoom_Output.state == "ON") {
        logInfo("RULES", "Living Room E-Plug OFF")
        sendCommand(DSPW215LivingRoom_Input, "off")
        }
        if (DSPW215WorkRoom_Output.state == "ON") {
        logInfo("RULES", "Work Room E-Plug OFF")
        sendCommand(DSPW215WorkRoom_Input, "off")
        }
        }

        if (AveoStatus_Output.state == "Ignition Off") {
        logInfo("RULES", "Aveo Ignition ON When Leave Home")
        sendCommand(AveoStatus_Input, "Start")
        }

        if (MiAirPurifierPower_Output.state == "{ power: true }") {
        sendCommand(MiAirPurifierPower_Input, "off")
        }
end

All credits to aholstenson

Note: This npm package is tested on node 5.12.0 (on 6 and 7 not worked well)