Platform information:

Hardware: Raspberry Pi 3
OS: Raspbian 9 (stretch)
Java Runtime Environment: openjdk version "1.8.0_232"
OpenJDK Runtime Environment (build 1.8.0_232-8u232-b09-1~deb9u1-b09)
OpenJDK Client VM (build 25.232-b09, mixed mode)
openHAB version: 2.5.0~S1742-1

Issue of the topic:
I based my work on this example and I've tried already every Module Configurations that there are mentioned.
I've also checked in many other topics such as this and this, but so far with no luck.
It matters to say that in this case I am using very little code, I'm mostly using Paper UI. So this is what I have right now.
On my .items file I have this:
Color Luz_RGB "Led Cores" ["Lighting"]
String Led_Cor "Cor Led [%s]"
Switch Led_Energia "Led TV [%s]" ["Switchable"]
Dimmer Led_Intensidade "Intensidade Led [%.0f %%]"

Then to get this panel on my Control screen:

I have it setup like so to work with colors:
On that green arrow I've already inserted different formats and none had impact.
Then I also have this Dimmer which is not working when I try to use it on my Control screen, but it does show the real Dimmer value: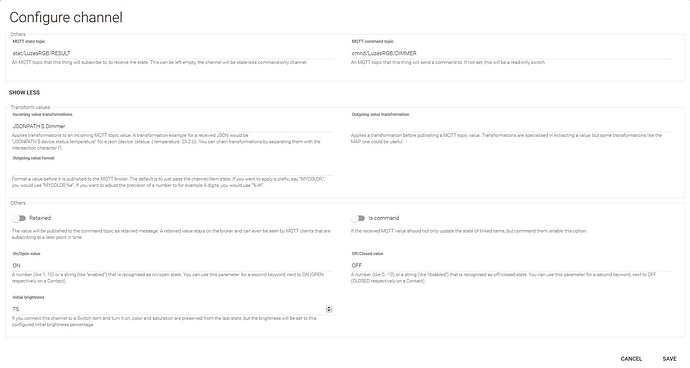 So that's it. I need once again your help guys because IR Remote is working perfectly, (almost) everything is perfect, except the colors that does not match the ones I try to set on the OH APP and on the Control screen.
Thanks in advance.