After searching around for a long while, I've finally settled on a wall mount to meet my criteria:
Flexible
POE or low voltage powered
Affordable (costs add up when you need a half dozen units or more!)
Clean install
The base tablet units are Amazon Fire HD 7s or Fire HD 10s. I came across these units thanks to @Dylan_Thurston and his great magnetic wall mount project. As he stated, these are great wall mount tablets since they can be rooted and are ultra low cost ($50-70 refurbished). Performance is awful out of the box, but once you remove the bloatware, they work great as home control tablets.
For mounting, I originally wanted to go the magnetic wall mount route as well, but I came across these great 3D printed cases from Makes by Mike, so I gave them a shot. I was originally a bit apprehensive since PLA quality is not always the greatest, but I tried them out, and these cases have been great! Bonus points because they're easy to mount to existing electrical work boxes and they include several power options, including POE.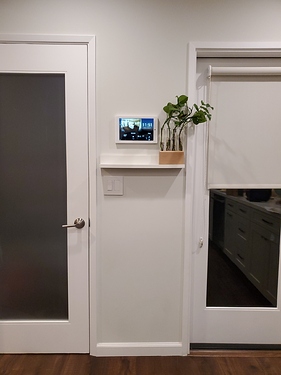 After rooting, the tablets have been modified with the following features:
Hands-free wake is triggered by tasker and MQTT from motion sensors in OH
When motion is detected in certain zones (front porch, etc), live video overlay of that zone pops up over the dashboard. Also triggered by OH events pushed via MQTT.
The dashboard runs off homehabit: HomeHabit Dashboard - Updates
For longevity, battery charging is limited using ACC: https://github.com/VR-25/acc
Sound for each tablet is output through bluetooth speakers paired in respective rooms